I am not here to dwell too much on the negative that came out of the game with Denver, but I am here to talk about what we did right.... as small as the right was.....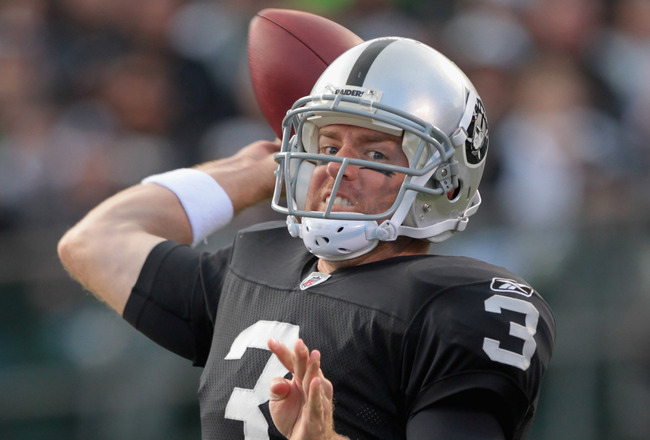 Carson Palmer
- Sure, he threw 3 interceptions, but did everyone forget he went 19/35 for 332 yards? Did everyone forget to look at the fact that he is gaining trust from his wide receiver core? Jacoby Ford with a TD, Marcel Reece with a TD and Michael Bush with a TD. Carson completed to 8 different receivers in the Denver game. He had 14 passing first downs. He made good throws and had the zip on the ball that so many said he didn't have anymore after his elbow injury a few years ago. Sky is the limit with this guy, and I see his stock going higher and higher and may soon even be close in comparison to the Rich Gannon era of offense. Sorry Jason Campbell, as good as you did in managing the offense, I can't remember the last 300 yard passing day you had.
Michael Bush
- Oh how big of a task it is to fill in the shoes of Darren McFadden this year. For the most part, what I have always noticed about Michael Bush when he would go in to give Darren a break during a long drive, he would always run into the back of his offensive lineman and wouldnt get his downhill speed going, constantly going down on first contact. In addition to that, he never lowered the shoulder to finish out runs like McFadden has become so notorious for in recent past. Well this week was a night and day difference for Michael. He was able to get through the line of scrimmage to the second level consistently and ran for a total of 96 yards on 19 carries. It may not seem like a lot to some, because we are so used to being spoiled by Darren, but 96 yards for Michael Bush is a big deal to me because it is not only the distance that he ran for, but the punishment that he handed out when finishing the runs that is making the diifference for me. If he can get the same thing going against a Charger defense that is hanging on from multiple injuries to their defensive line, then we will have the ball control that we need to control the clock and keep Philip Rivers off the field and win the game.
Now, I am not going to act as if there are not any negative things that we need to do a better job at, but talking about them just reminds me of the bad feelings I get when watching the games and does not do any good, nor does it make you want to read more. But, just for s*its and giggles, they are:
Aggressive play calling. Play to win, not to lose.
Better pass protection. Give Carson more time to make his progressions is going to be key to not turning the ball over.
Improved special teams gap assignment play.
Improved linebacker and defensive line play. CONTROL THE RUN!
All in all, if we can continue building this bully and playing smart controled football, success will go our way again.
Dont forget, we are tied for first place still in the Division and determine our own future going forward.
FYI. Exciting news coming to Chaotic View soon. We are bulding our affiliations and will be making this blog more interactive for you. More to come.
Chaotic View